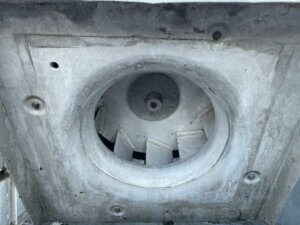 You must be familiar with all commercial kitchen hood requirements if you are responsible for managing or supervising commercial kitchens. This will ensure that your kitchen is safe and efficient.
Neglecting to maintain restaurant kitchen hoods can lead to costly repairs, expensive fees, and dangerous working conditions for your staff.
Keep reading for more information about commercial restaurant hood systems, maintenance, and to get in touch Seattle Hood Cleaning to arrange a time for us to inspect your restaurant's hood system.
What is a Restaurant Hood System?
Let's start with what is a restaurant hood and what do they do?
A restaurant hood is designed to remove heat and grease from commercial kitchens. This ventilation system is essential for keeping your kitchen safe, reducing slip-and-fall injuries, and mitigating kitchen fire hazards.
This ensures adequate airflow through your commercial kitchen and keeps your work environment clean.
Parts of a Restaurant Hood System
What are the components of a restaurant hood?
The following components make up a restaurant hood system:
Exhaust fan

Exhaust hood

Control panel: This is where you can adjust the ventilation system to meet your needs at any time.

Pollution control units are used to reduce grease and other unpleasant odors in the kitchen.

Rooftop units

Grease duct

Grease trap pan/cup

Different types of Kitchen Fan Systems

There are many types of restaurant hoods that you can choose from. You have the following options when it comes to restaurant hood systems:

Ceiling mount hood system

The cabinet hood systems are located underneath.

Downdraft hood systems

Wall-mounted range hood system

Ducted restaurant hood system

Recirculating restaurant hood systems
Restaurant Hoods Routine Maintenance
Regular inspection and maintenance of your restaurant's hoods is crucial. This will help reduce many risks and improve the work environment for your employees.
A commercial kitchen should have the following routine maintenance:
It is important to change the filter on the hood every three months, depending on how frequently the kitchen is used.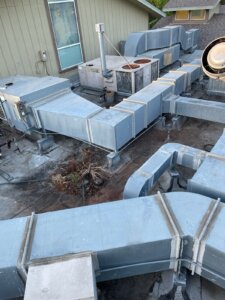 Inspection and professional hood cleaning
Routine inspections of the restaurant hood system are necessary to make sure that it is functioning properly
How important is it to have a hood cleaning?
A regular hood cleaning will remove dirt, grime, dust, grease and other things that it has filtered out of the air.
Why is it important to maintain your commercial kitchen hood system regularly?
It is vital that your commercial kitchen hood be cleaned on a regular basis for the following reasons:
This reduces the chance of cooking fires.

A clean commercial kitchen hood makes it easier to maintain a healthy environment.

Regular cleaning and maintenance of restaurant hoods can reduce slip and fall injuries.

Commercial kitchens must have their exhaust hoods cleaned regularly by a professional according to the NFPA. Restaurant owners who fail to comply with this guideline risk being subject to large fines and even closure.

Cleaning your commercial kitchen hoods will make it easier to be more productive and efficient.
Commercial Hood Installation Cost
The cost of range hood installation depends on the size and type of restaurant hood system ordered.
Installation costs for commercial hoods average around $1,000 per square feet. For example, a 15-foot rangehood could cost you around $15,000 to install.
Commercial hood installation companies will give you an estimate of the cost of installation if requested. So don't hesitate in reaching out to potential installers.
Best Restaurant Hood Systems
The following are some of the most highly rated restaurant hood systems:
PLJW 185, Under-cabinet System

PLFW 520 (wall mounted system)

PLJI 103 (kitchen islands system)

PLFI 755.60 (kitchen island system)

ProSW.60 (wall-mounted system)
There are a variety of options depending on what size range hood you require. Range hoods come in a range of sizes, from 30-inch to 60-inch.
How often should my restaurant hood system be cleaned and inspected?
You should inspect your commercial kitchen hood system at least once every three months.
Exceptions to the 3-month cleaning rule are:
If you have a commercial kitchen with wood or charcoal stoves. If they are used in commercial kitchens, they must be cleaned at least once a month.

If you own a fast-food restaurant. In this instance, you should have your restaurant hood cleaned every month.

There might be other exceptions to the 3-month rule, so it's a good idea to call a professional hood cleaner if your commercial kitchen situation is not covered.

It is better to be safe than sorry. If you feel unsure, it is a good idea to contact a professional hood cleaner like Seattle Hood Cleaning with any questions.
Commercial Kitchen Exhaust Hood Cleaning Service in Washington
Seattle Hood Cleaning Pros is the best restaurant cleaning service if you own or manage commercial kitchens in Washington and Oregon.
Our restaurant hood cleaning system at Seattle Hood Cleaning have been making commercial kitchens more efficient and safer for years. We know how important it is to have a clean restaurant hood system. 
Our team of restaurant hood cleaners is hardworking, efficient and highly trained. We are happy to share our knowledge with your kitchen.
Seattle Hood Cleaning Pros can help you learn more about restaurant hood cleaning or book our team to visit commercial kitchens.
Just a phone call away, you can find a safer and more functional commercial kitchen 206-929-4133.